K-12 Leadership Education
The Doctor of Education in Educational Leadership, K-12 Leadership Education concentration, prepares you to meet the challenges of today's complex educational landscape. We foster the development of practical knowledge and problem-solving skills, grounded in a framework of relevant educational theory.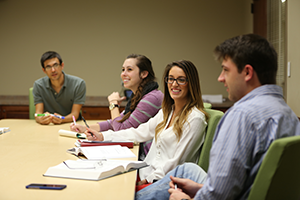 We work with you to make sure you are a strong leader who can identify and solve complex problems in education. You will understand the multitude of leadership and management theories, practices, and techniques related to your professional setting, and demonstrate effective communication skills in both school and non-school settings. We have a dynamic view of theory and practice — we know that one informs the other.
We have an innovative program with a community-based approach to learning, so you can gain knowledge with and from experienced educational professionals and leaders. We have flexible instructional formats and locations so you learn via live video, compressed video, and online courses.
The degree program consists of 60 credit hours of coursework in educational leadership, instructional leadership, your specialization area, and dissertation seminars. Take the next step and expand your career opportunities.